Contact us
Faeryland's Farm Winter/Spring Newsletter 2022
Hello human people!
Spring is near and us goats have been busy over the Winter getting ready for the farm to open back up and all the people to come love on us!!! Our most exciting news is that we are officially a 501C3 organization and we have new babies too as well as a few more goats, a turtle, and some rabbits we rescued over the Winter! The new babies were born March 1st, and we happy to report that momma and the twins are doing great. 

The farm officially opens for the year Saturday, March 19, 2022. Come help us welcome in Spring with a relaxing morning of Goat Yoga.
Sign-up here or head over to Facebook for the livestream that morning @ 11AM CST.

Mindfulness with Goats Course, May 3, 2022 – May 31, 2022.
Come learn all about the health and wellness benefits of goats. You came join us on the farm or online. Goats are good medicine physically, mentally, spiritually, and emotionally. Petting, brushing, cuddling, or just playing with goats increases our moods and leaves us feeling peaceful and grounded.
In this 5-week course we will learn how goats benefit us therapeutically and help with stress-management and pain-management.
We will learn a basic breathing exercise and how practices like mindfulness, yoga, and tai chi with goats provides us many health and wellness benefits.
Contact us for more information.


2022 Schedule of Events
Event Starting Ending
Reading with Goats 03/02
Spring Equinox Goat Yoga 03/19
Mindfulness with Goats Course 03/21
Goat Yoga 04/09
Goat yoga 04/10
TTU students Goat Cuddling 04/29 05/06
Goat Yoga 04/23
Made Here Market @ the Biz Foundry 05/07
Mother's Day Goat Yoga 05/08
Mindfulness with Goats Course 05/03 05/31
Animal Education Day 05/21
Summer Solstice Goat Yoga 06/21
Animal Education Day 07/26
World Goat Day 9/18
Mindfulness with Goats Course 08/02 08/30
Autumn Equinox Goat Yoga 09/24
Trick or Treat with Goats 10/31
X-Mas pics with Goats 11/26 11/27
Giving Tuesday fundraiser 11/29

What Does the 501C3 status mean for the farm and donors/supports?
Being an official 501 means that all donations are now officially tax-exempt with the IRS, and any donation of $250 or above is considered non-taxable income for you come tax season.
For the farm, this means that we can gain more support and eventually get the farm certified as an official Federal animal rescue.
How Do the Animals Come to the Farm?
The majority of the animals on the farm are rescues. However, we do practice controlled breeding of the goats for our therapy program. So that we ensure the best genes and trainability of the animals.
For the rescues, they come to us for many reasons. For most of the animals, they have come to us because their owners are no longer able to care for them and their owners want to make sure the animals continue to live their best lives possible. We are honored and humbled for the animals we have taken in, and we are excited about our new direction and future so that we can provide a safe and loving home for any animal that needs it, which is all possible only with your support!
You can always donate to the farm, and all proceeds go to the animals. We also take item donations in place of monetary assistance.
• You can find our list for the turtles and rabbits at chewy.com
https://www.chewy.com/g/faerylands-farm-menagerie_b71730665
• Goats, the donkey, dogs, and cats have a list on tractor supply
https://www.tractorsupply.com/SharedWishListView?catalogId=10051&wishListEMail=true&langId=-1&storeId=10151&guestAccessKey=65761072:17b74e7e9eb:-3052&externalId=4217749&wishListEMail=true
Overall farm and maintenance list amazonhttps://www.amazon.com/hz/wishlist/ls/3LQKUU06ISNRX?ref_=wl_share

Us goats and all the animals on the farm THANK YOU for all you do to help us help spread our mission of love, happiness, and healing. Happy Spring!


PS: Do not tell Ma: Bring us carrots and apples! 

View our booking and event calendar
Get your goat cuddling session in before the season ends December 1st. Learn about the theraputic benefits of cuddling goats!
Easter Sunday Fun Day on our Sister Farm in Sparta! Baby, Princess Diva, and the rabbits will be there
For FACILITIES: Virtual Goat Therapy Visits 2022
Covid has postponed traditional animal therapy visits. Just like us, the animals have found Zoom and adapted so that they can provide their healing therapy to a broader range of individuals and groups.
With Covid increasing feelings of depression and social isolation, animal-assisted therapy is a healthy and safe option to help improve our happiness, well-being, and sense of togetherness. Furthermore, social isolation and loneliness affect people who have few social contacts and lack an overall sense of belonging; It affects older adults and individuals with mental, behavioral, and physical disabilities who are often ostracized in our society the most.
 Our virtual visits are available to those living in nursing homes, assisted living facilities, residential treatment programs (e.g., behavioral health, rehabilitation), inpatient/ outpatient medical centers (e.g., hospitals, cancer centers), church organizations, and other group settings as well as for veterans or individuals with limited mobility, autism, or who are socially isolated. We are also happy to work with libraries, camps, homeschool groups, and school reading programs.
Studies have shown that watching animal videos or viewing pictures of animals does put people in good moods. Our virtual visits with the goats and other animals are always fun and, at times, chaotic because we never know what shenanigans the goats will get up to.
Our virtual visits are conducted with Zoom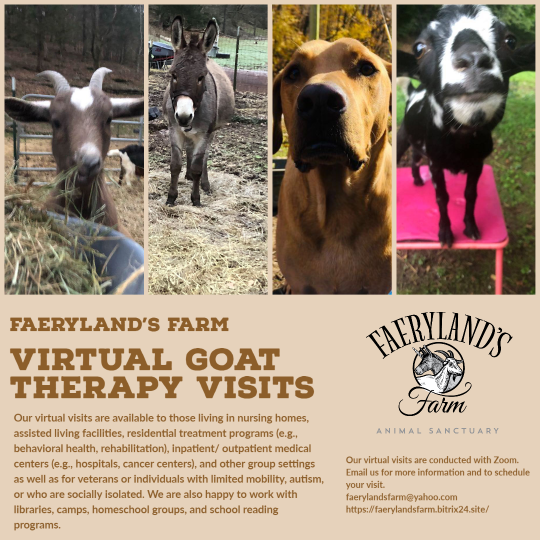 Goat Yoga Schedule Change: March 20 cancelled and rescheduled for April 10 @ 2-3PM
the study of practice
Thai Chi: Meditation in Motion
Looking to improve your health, happiness, and well-being? Begin your journey for better health and well-being through the power of Tai Chi. The gentle movements of tai chi reduce stress and offer many health benefits: flexibility, coordination, increased circulation and blood flow, muscle strength, joint lubrication, improved posture and breathing.
"Thai Chi ia enthralling. Not long after you take up the exercise, you begin to enjoy a marked improvement in health and well-being, which motivates you to practice more" (Ong, 2013, p. 7).
"The ancient Chinese exercise is hardly as mainstream as aerobics or the treadmill, but with its gentle, fluid movements and proven health benefits, it's a natural arthritis workout" (DiLonardo, n.d., para. 1). 

References
DiLondaro, M.J. (n.d). Tai Chi for Arthritis. https://www.arthritis.org/health-wellness/healthy-living/physical-activity/yoga/tai-chi-for-arthritis
Ong, C.P. (2013). Taijiquan: Cultivating Inner Strength. Bagua Press. 
Disclaimer: Please note that the animals do not come to town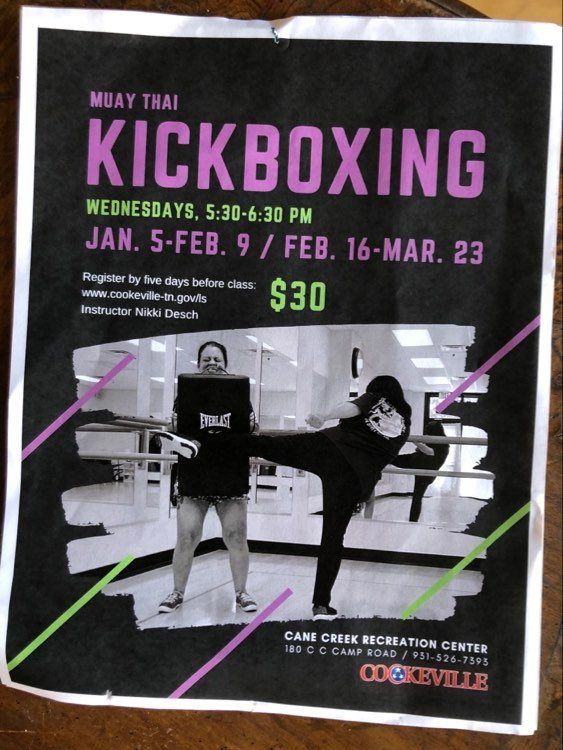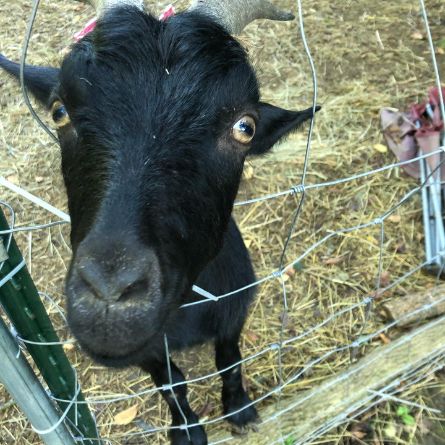 Mindfulness for stress-management (mindfulness with goats)
In this 1 hour course, we will cover how to manage stress, how to identify stressors, how our personalities and archetypes affect our stress, and how animals like goats and nature help us destress so that we are happier more positive and productive individuals working on living our best lives possible.


No experience required. All ages welcome. 
Monies earned go directly to the animals and their mission to spread love and healing.

Check out our newest line of animal products to brighten your home and delight your heart
Goat Therapy: Licensed to be Cute
Goats provide us with many health and wellness benefits. Because of their socialable natures and intelligence, goats make excellent therapy animals.
Do you want to help provide healing and learn about animal education and care farms? Then, we want you! The goats are always on the lookout for volunteers to support their mission to bring happiness and well-being!
Contact us
(931) 858-3418
healing ourselves and healing animals and nature with mindfulness practices are the main component of all our activites on the farm. 

Perfect place for your relaxation
Whether goat cuddling, goat yoga, or practicing mindfulness with goats, the animals provide peace, serenity, and calm.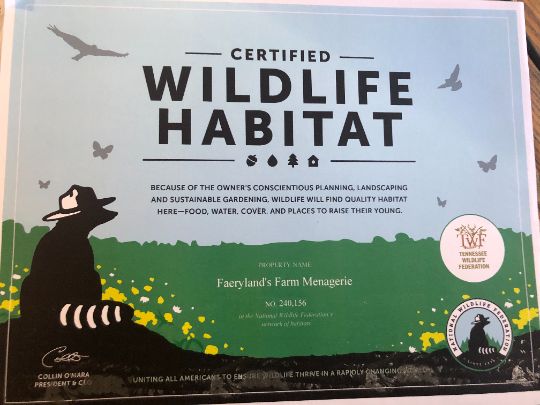 Press Release: National Wildlife Federation Certifies New Wildlife Habitat Garden in Baxter, Tennessee
Faeryland's Farm designated as Wildlife Habitat
Why Include our Animals friends in our Mindfulness Practices?
Animals live in the present moment

 Animals help us relieve stress 

 Animals promote empathy and prosocial behaviors 

Animals help us get out in nature 

Animals enhance mindfulness practices or meditation 
Regardless of the mindfulness practice you adopt, being with your animal friend as you meditate is a great way to help you focus on your breath and relax. The cats, rabbits, and goats all like to sit in my lap (on at the same time – maybe) while I practice mindfulness and the animals are key to all our animal reiki sessions because they are the ones that provide the healing, peaceful energy. Just being with your animal companion helps you focus on the present moment and increases our awareness of your outer and inner environments.  
Support the animals on faeryland's farm
Would you like to support the goats and other animals in their mission to help humans and animals improve their lives and reach optimal happiness and well-being? Your donation not only supports the animals but provides the opportunity for us to rescue more animals that need a safe and loving place. Any amount helps and we appreciate your dedication to helping animals and other humans.
© 2020 All rights reserved.