View our booking and event calendar
Get your goat cuddling session in before the season ends October 30th. Learn about the theraputic benefits of cuddling goats!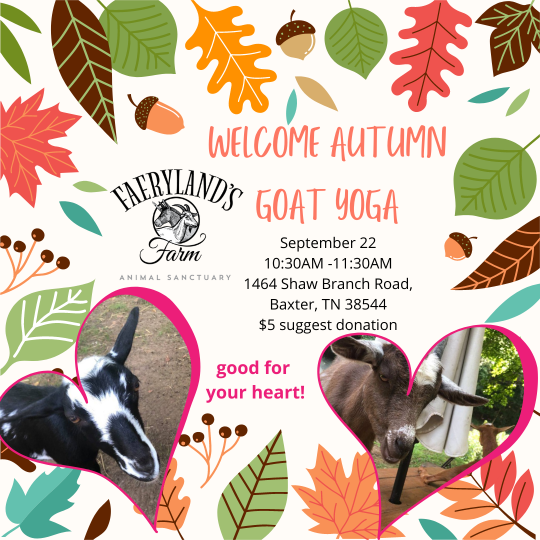 Autumn Equinox Goat Yoga
Come join the goats and yoga instructor Blue Adkins from Cane Creek Community Center for a fun and refreshing morning of goat yoga! Goat yoga is good for your mind, body, and soul. Being with the goats creates a deep serenity and you will leave relaxed, refreshed, and grounded
Mindfulness with Goats 5 week Course
This course will be live via ZOOM September 30 - October 28, 2021
There wil be two sessions offered each Thursday via Zoom. 
Session One : 10AM -11Am CST
Session Two: 3PM - 4PM CST
Week One: We will learn about what mindfulness practices are, how mindfulness with animals (especially goats) helps increase our optimal happiness and well-being, and we will learn some basic mindfulness practices.
Week Two: We will learn to identify stress in our lives and how we can effectively cope with it. We will learn about what triggers us and how we can avoid and reframe our stress so that we always achieve the most happiness and productivity in our lives.
Week Three: We will learn about the shadow side of our minds and how goat therapy can help us overcome our negative thought patterns. Our shadow sides are the parts of us that lie deep in our unconscious mind. It holds all our fears, negativity, traumas, and unknown potentials and possibilities.
Week Four: We will learn about the archetypes of our minds and learn some advanced mindfulness practices. We will learn how we can use archetypes to help us learn more about our personalities and how we confront and tackle stress in our lives.
Week Five: In our final week, we will learn about how animals help us learn to manage our stress and learn about goat therapy and how we apply what we have learned in class to help us reach optimal happiness and well-being in our lives.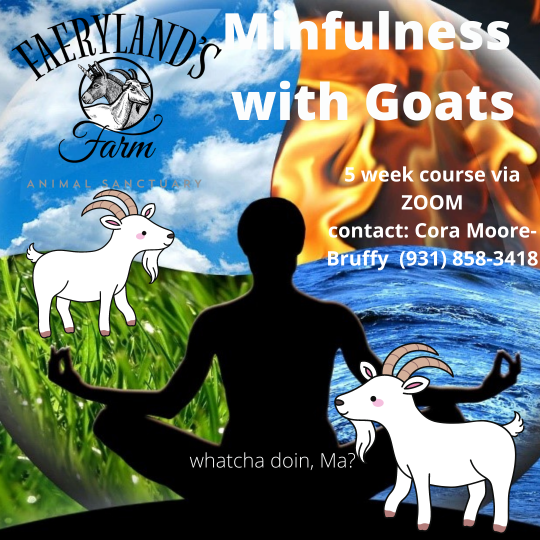 Check out our newest line of animal products to brighten your home and delight your heart
Goat Therapy: Licensed to be Cute
Goats provide us with many health and wellness benefits. Because of their socialable natures and intelligence, goats make excellent therapy animals.
Do you want to help provide healing and learn about animal education and care farms? Then, we want you! The goats are always on the lookout for volunteers to support their mission to bring happiness and well-being!
Contact us
(931) 858-3418
healing ourselves and healing animals and nature with mindfulness practices are the main component of all our activites on the farm. 

Perfect place for your relaxation
Whether goat cuddling, goat yoga, or practicing mindfulness with goats, the animals provide peace, serenity, and calm.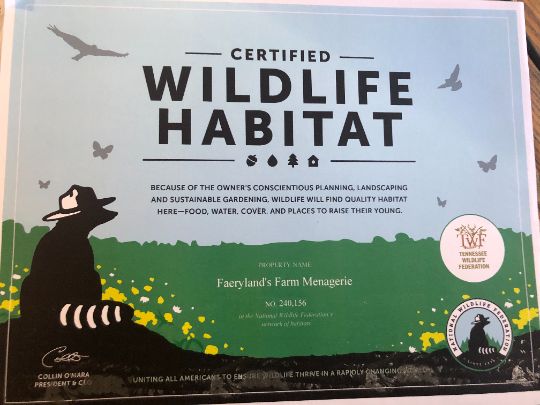 Press Release: National Wildlife Federation Certifies New Wildlife Habitat Garden in Baxter, Tennessee
Faeryland's Farm designated as Wildlife Habitat
Why Include our Animals friends in our Mindfulness Practices?
Animals live in the present moment

 Animals help us relieve stress 

 Animals promote empathy and prosocial behaviors 

Animals help us get out in nature 

Animals enhance mindfulness practices or meditation 
Regardless of the mindfulness practice you adopt, being with your animal friend as you meditate is a great way to help you focus on your breath and relax. The cats, rabbits, and goats all like to sit in my lap (on at the same time – maybe) while I practice mindfulness and the animals are key to all our animal reiki sessions because they are the ones that provide the healing, peaceful energy. Just being with your animal companion helps you focus on the present moment and increases our awareness of your outer and inner environments.  
Support the animals on faeryland's farm
Would you like to support the goats and other animals in their mission to help humans and animals improve their lives and reach optimal happiness and well-being? Your donation not only supports the animals but provides the opportunity for us to rescue more animals that need a safe and loving place. Any amount helps and we appreciate your dedication to helping animals and other humans.
© 2020 All rights reserved.